Rocking Recliner Armchair by Elran
660449
$1,369.99
The promotion ends on 12 June 2023.
* (Prices in Canadian dollars. Taxes and shipping not included.)
Other colours available
Other upholstery / finishes available
Other mechanisms available
Add to my wishlist
Information request
Print this product
Specifications
Built Locally

Reclining

Rocking
| | |
| --- | --- |
| Brand | Elran |
| Colour | Grey |
| Upholstery/Finish | Fabric |
| Reclining | Yes |
| Motorized | No |
| | |
| --- | --- |
| Swivel | No |
| Built Locally | Yes |
| Other Colours Available | Yes |
| Other Mechanisms Available | Yes |
| Other Upholstery/Finishes Available | Yes |
| Rocking | Yes |
Description
Comfortable reclining and rocking fabric armchair with thin armrests for assured relaxation
To complete your furniture set
reclining sectional, reclining sofa and reclining loveseat are also available
Separate or together, you will be content.
Dimensions
| | |
| --- | --- |
| Width (in) | 41 |
| Height (in) | 40 |
| Depth (in) | 37 |
More information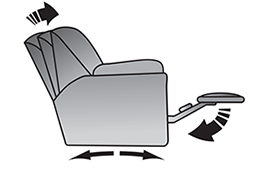 Wall system, must be 5,5" from the wall to fully recline

Lever style handle to activate reclining mechanism.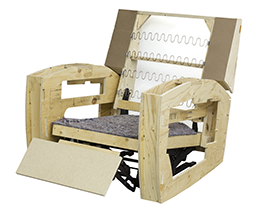 Superior construction grade spruce plywood which is dried better and doesn't warp or crack.
We combine materials and make choices according to the application to ensure strength and durability of the furniture. The wood pieces systematically interlock during the assembly process which creates a strong, reinforced structure.
In the areas of the frame that need to withstand more pressure, we use TimberStrand®. It's an engineered wood currently used to make "H" beams in houses because of its strength. Doesn't change with variations in humidity and temperature.
Our frames have a "L" shaped piece that joints the back of the arm to the seat. This piece stops the pivot point on that joint and reinforces the frame.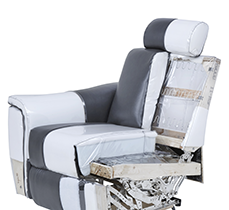 High quality foam (Density = 2.05 lb/ft3). The competition uses foams that vary from 1.5 to 1.9 lb/ft3.
The compression of the foam is the equivalent of flexibility and comfort (33-38 lb/in2) average 36 lb/in2.
Our foam is pre-crushed which allows it to have better comfort upon reception of the furniture.
We use high quality No Sag springs with a metal rod linking all of them for better weight distribution.
Felt is installed between the springs and the foam to lengthen their life expectancy.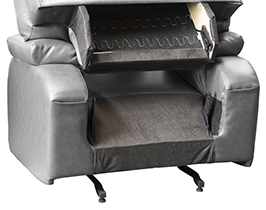 All the backs of our reclining furniture are removable for better mobility.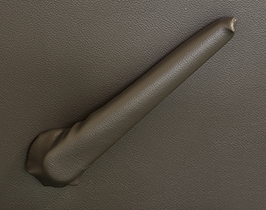 Direct drive action.
Equal weight distribution, because both sides of the mechanism work simultaneously.
The other advantage of the external handle is the assistance to close the footrest.
External versus internal handle = only a question of design.
Introduction of a new internal handle: Easier to use and more resistant.
Despite our best efforts, errors may appear in the product details. In this case, pricing and specifications as they appear in store take precedence.
Prices may vary according to the fabrics, finishes and colours.