Reclining Sofa by Elran
84004640
Other colours available
Other upholstery / finishes available
Other mechanisms available
Add to my wishlist
Information request
Specifications
Built Locally

Reclining
| | |
| --- | --- |
| Brand | Elran |
| Colour | Grey |
| Upholstery/Finish | Fabric |
| Reclining | Yes |
| | |
| --- | --- |
| Motorized | No |
| Built Locally | Yes |
| Other Colours Available | Yes |
| Other Mechanisms Available | Yes |
| Other Upholstery/Finishes Available | Yes |
Description
Reclining fabric sofa with clean lines • To complete your furniture set • reclining sectional • reclining loveseat and rocking recling armchair are also available • Separate or together, you will be content.
Dimensions
| | |
| --- | --- |
| Width (in) | 87 |
| Height (in) | 40 |
| Depth (in) | 37 |
More information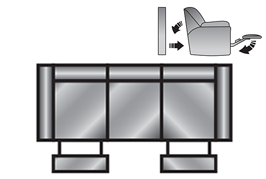 Wall system, must be 5,5" from the wall to fully recline.
Wide Sofa with 2 recliners.
Available on certian models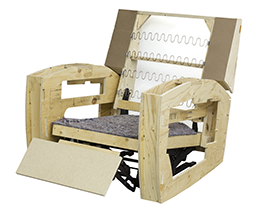 Superior construction grade spruce plywood which is dried better and doesn't warp or crack.
We combine materials and make choices according to the application to ensure strength and durability of the furniture. The wood pieces systematically interlock during the assembly process which creates a strong, reinforced structure.
In the areas of the frame that need to withstand more pressure, we use TimberStrand®. It's an engineered wood currently used to make "H" beams in houses because of its strength. Doesn't change with variations in humidity and temperature.
Our frames have a "L" shaped piece that joints the back of the arm to the seat. This piece stops the pivot point on that joint and reinforces the frame.
Despite our best efforts, errors may appear in the product details. In this case, pricing and specifications as they appear in store take precedence.
Prices may vary according to the fabrics, finishes and colours.